Heppell Bench

Every horizontal surface is a dry-wipe writable work surface. Every horizontal surface is also a seat (sitting on the 'tables' is positively, joyously encouraged). Create tiered seating or use the benches as sitting and / or standing height collaborative worksurfaces. It's one small but significant (dry-wipe) step towards a next-generation learning space.

Find out more
FEATURES OF HEPPELL BENCH
Create a range of learning opportunities at a single, simple stroke.
Working on the principle that seats and worksurfaces are both horizontal, we thought why not use worksurfaces as seats and seats as worksurfaces? That way you get multiple possibilities and ways of learning all from one piece of furniture.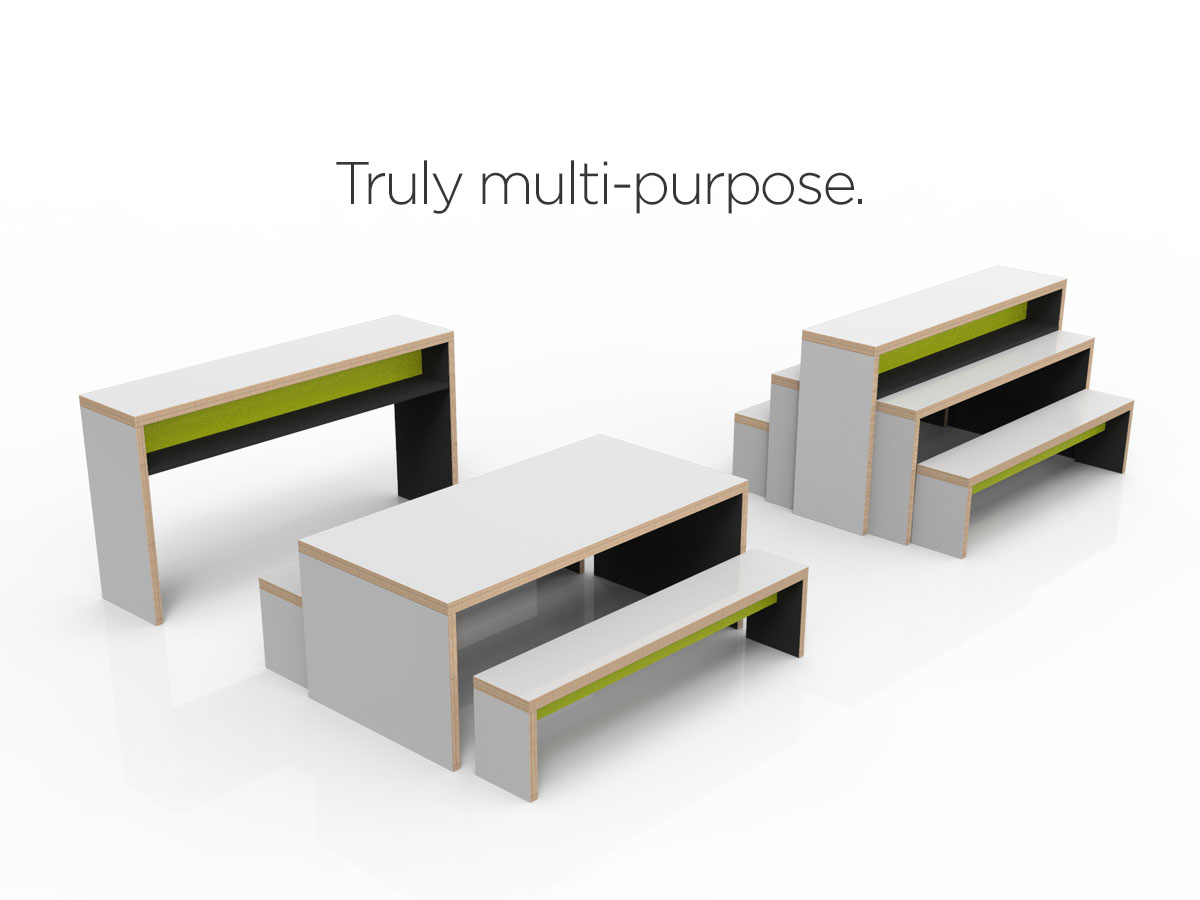 Learners like to work in a variety of body positions: sitting, standing, lying down or kneeling. Children have an innate need to move around and they learn better when they are freed from the constraints of a desk and chair. For teachers, having an environment that enables different learning styles, where students can collaborate and gather easily, presents exciting new opportunities. The Heppell Bench does all of this at a single, simple stroke.
The Heppell Bench set consists of four benches; two low, one mid and one tall, that nest together. It's up to you (and your students) how you deploy them but they can be used:
together as tiered seating, which is ideal when you want to gather the class together for instruction or discussion,
as a large table for collaborative tasks with the sitting height benches on either side,
as a standing height table for exploratory work.
On the Heppell Bench every horizontal surface is a dry-wipe LearningSurface® writable work surface and every horizontal surface is a seat. We recommend a 'shoes off ' policy in areas where Heppell Benches are used; it's more comfortable and relaxed for students and it keeps the LearningSurface® writable surfaces clean and in good condition.
The opportunities for teachers and learners
With just this one product you can introduce agility, a choice of how and where to work, tiered seating, writable surfaces and you can create a zone for gathering, collaborating or exploring depending on how you configure your benches. You could even try removing some of your desks, replacing them with a Heppell Bench to free up space and to enable greater agility. However you use it the Heppell Bench is a great first step towards creating a next-generation learning environment.
Benefits of Heppell Bench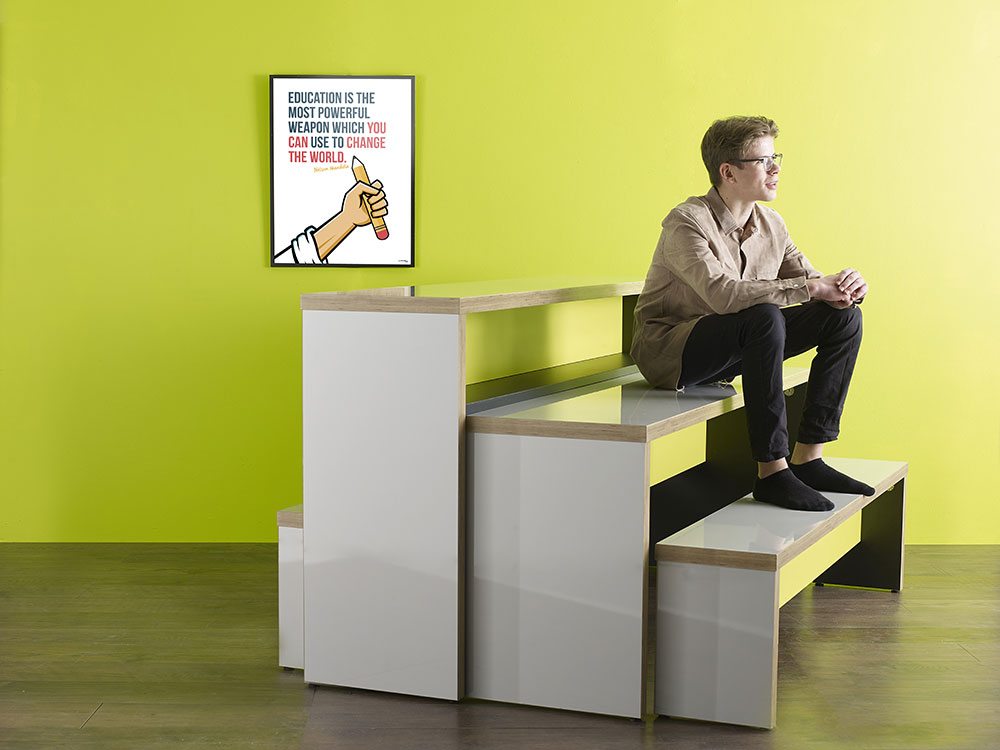 Fun
Everyone likes sitting (and writing) on tables or worksurfaces because it's a bit different. Everyone loves tiered seating because it energises learning and everyone can see. With the Heppell Bench you get all of this in one product.
Agile
It could be one, important step (or, more accurately, four important steps) that starts the move towards an agile, next generation learning space which provides diversity and a choice of learning styles to meet the varying needs of your students.
Writable
Writable surfaces are hugely popular with students and teachers because they are fast, fun, there's nowhere to hide and everyone has to participate. You don't just get to sit on the tables, you can write on them too!
Technical information
FINISHES
External faces
Light grey LearningSurface®
Internal faces
Charcoal grey laminate
Edges
Ply effect ABS
Stretchers
Learniture® green laminate (pantone 382C)
DIMENSIONS
High Bench
1950L x 450D x 1010H
Mid Bench
1800L x 900D x 710H
Low Bench
1650L x 300D x 420H
OPTIONS
Two low benches
One mid bench
One high bench
Heppell Bench set (2 low, 1 mid, 1 high)