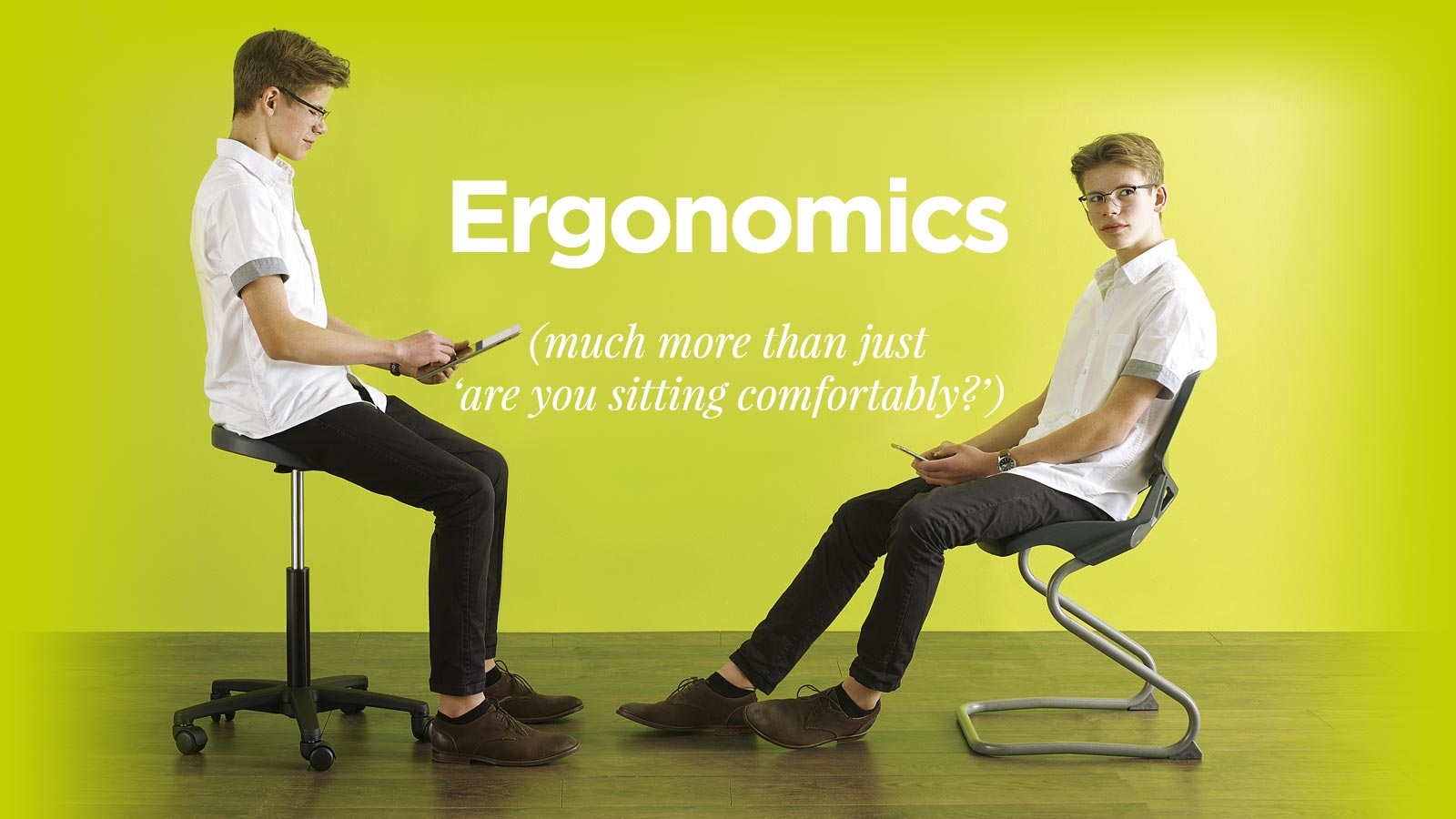 Ergonomics is the scientific study of the interrelationship between the human body and the physical environment.
And it has as much to do with the brain as the spine.
In the classroom, ergonomics is frequently seen as no more than making sure you have the right size table and chair for the age of the student (like they're all the same size and don't grow during the academic year).
But it's more complex than that: in terms of classroom ergonomics, correct seated geometry – and most especially in learning environments – isn't the rigid ninety degree posture many diagrams suggest, but much closer to the 110˚-120˚ you'd adopt if you were on a bicycle or riding a horse.
The reason is simple. Many of your body's vital organs are located in the lower part of your abdomen: sitting at 90˚ constricts these organs and that restricts the flow of oxygenated blood to the brain. And that in turn impacts on learning.
"Much more of the brain is devoted to movement than to language. Language is only a little thing sitting on top of this huge ocean of movement."
OLIVER SACKS
NEUROSCIENTIST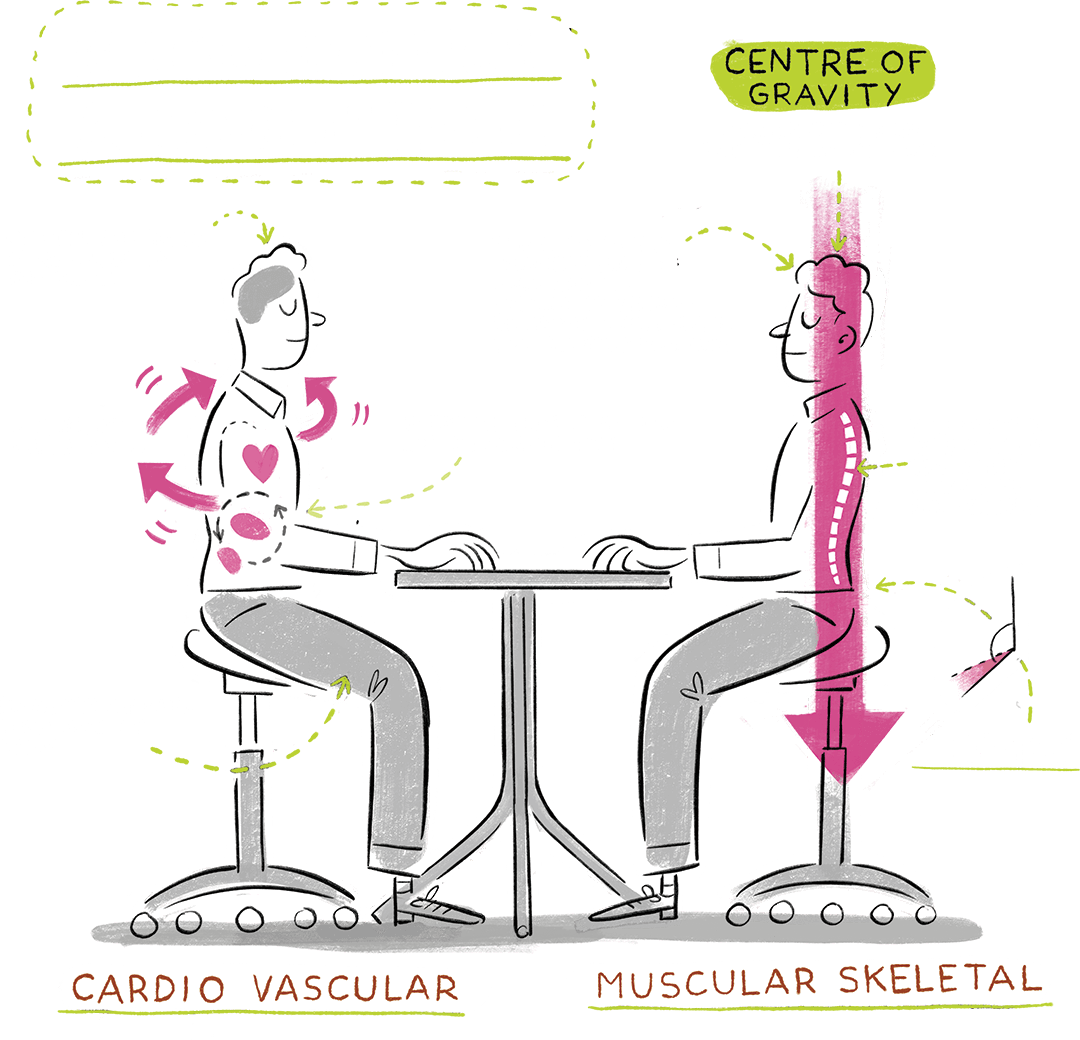 How does ergonomic seating affect
concentration performance?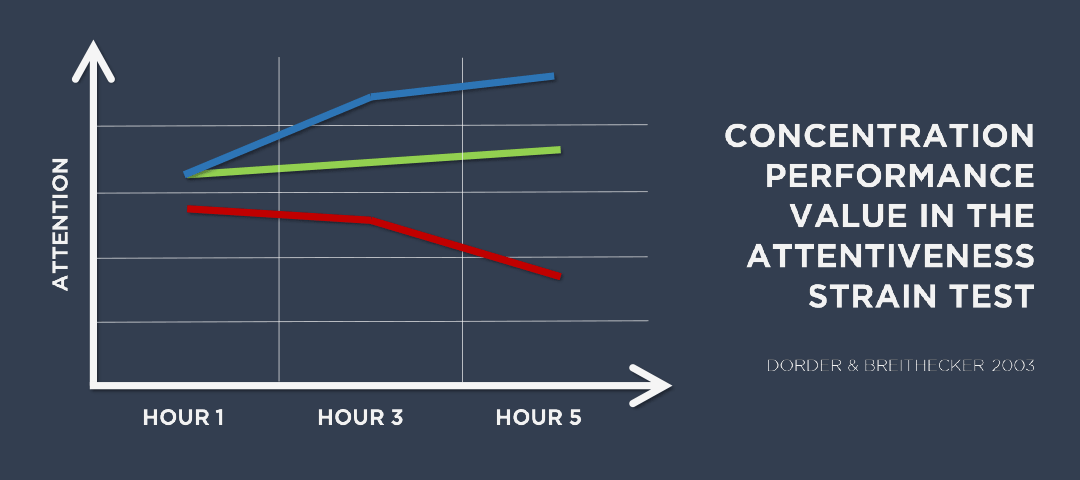 The research that underpinned this report looked at two similar schools in Hanover. In both, over a period of four years, and using the D2 test of attention, they tested students three times a day to determine to what extent ergonomics impacted on how well they were paying attention.
In the first school (the control) they altered nothing and found that students' attention dropped throughout the course of the day (red line). Many teachers recognise this 'afternoon dip'. In the second school they installed active play equipment and here they studied two classes. In the first class, again they changed nothing (although the students had access to the active play equipment during breaks) and here attention was maintained (green line) throughout the day.
In the third class, in addition to having access to the active play equipment, they additionally altered the room as well as the curriculum so students were encouraged to move during the lesson. Here (blue line), students' attention increased during the course of the day.
The designer of our ergonomic Acclivity chair solved the issue of poor posture by making the seat a little higher and a little shallower whilst also creating a clean waterfall edge to the front of the seat so as not to constrict the popliteal artery that runs up the back of your thigh.
Our Turn&Learn stool takes this one stage further – its ergonomic "saddle" seat actively encourages students' legs to drop from the horizontal whilst it also allows users to swivel – the gentle swing from side-to-side creating beneficial movement.
"When a student leans back on their chair, they're not being naughty. They're subconsciously opening the angle between their abdomen and thighs, to the correct 120 degrees."