Turn & Learn

An inspired seating choice that promotes good posture through sound ergonomic principles. The Turn & Learn actively supports learning by helping to improve cognitive function through improved blood flow and allowing students to move around or fidget while staying in their seats.

Find out more
FEATURES OF TURN & LEARN SEATING
Children aren't designed to sit still. Turn & Learn allows them fidget, improving concentration without disturbing anyone else.
You can't concentrate if you're not comfortable and children focus better if they can fidget and move around a bit. The Turn & Learn provides comfort and enables a bit of fidgeting without causing any disruption through sound ergonomic principles and clever design.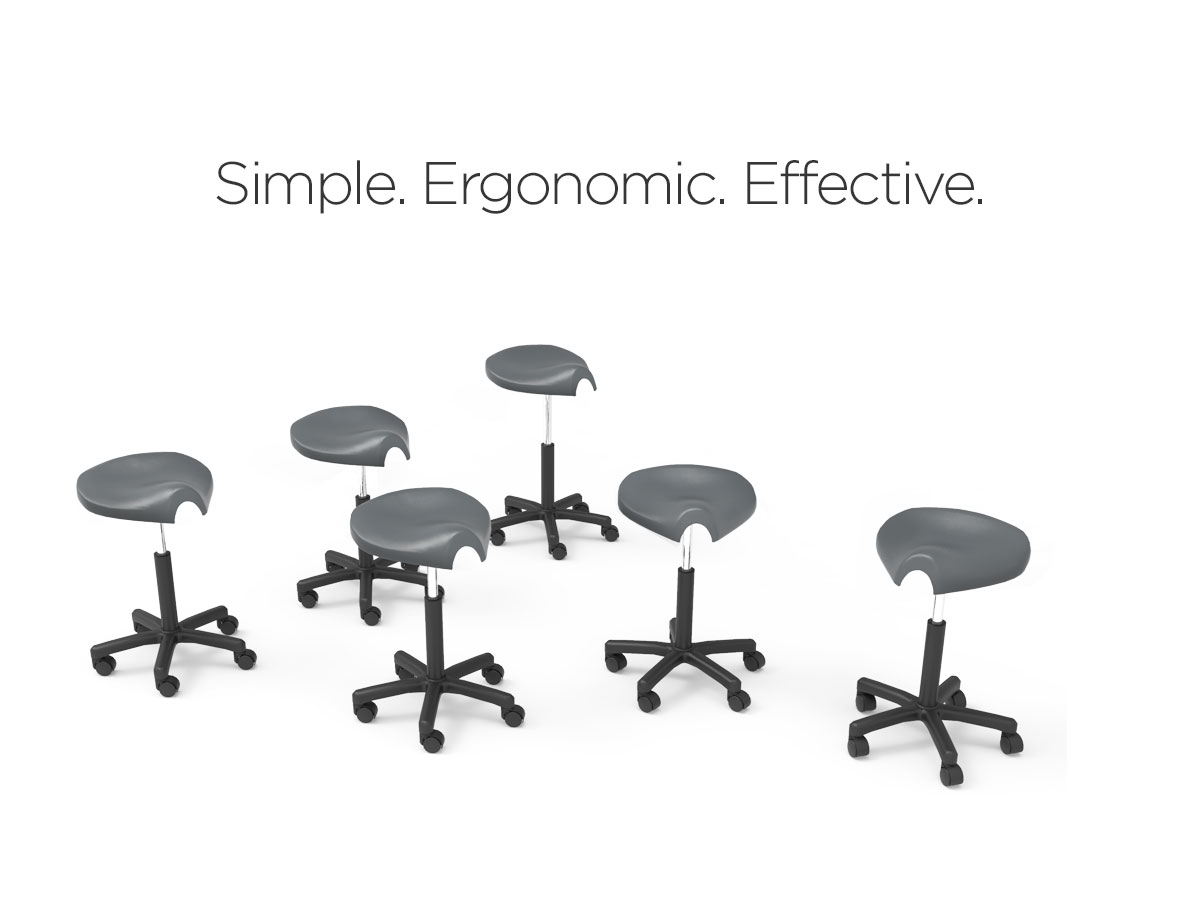 Whoever coined the phrase 'sit still and concentrate' didn't understand very much about blood flow, cognitive function and the inherent need to move that is present in all humans, especially smaller ones. The Turn & Learn allows learners to sit in a saddle-like posture that delivers comfort while opening up the angle between torso and thighs to increase blood flow to vital internal organs and the brain. This increases the amount of oxygen reaching the brain which can improve cognitive function and helps learners to stay alert.
Because you can turn on a Turn & Learn it's a great choice for subjects where 'talk to your neighbour' tasks crop up a lot, such as MFL and English, and saves a lot of noisy chair-leg screeching as people shuffle into a better position.
Some people worry that there is no back on a Turn & Learn. Rather like a sitting on a bike or a horse, the Turn & Learn puts your body in a position where your centre of gravity goes straight through the core of your body, with your head over your pelvis rather than slumped forwards or back. In this position you are perfectly balanced so you don't need a back to lean against. Try it if you're not sure and you'll see what we mean.
Mounted on casters (that lock when someone sits down, so, sorry kids, you can't race around on them) or glides, the Turn & Learn has a small footprint compared to chairs and is easy to place under desks, making it easier to move around the room. You can also specify locking casters if you wish.
The Turn & Learn is height adjustable so it suits all ages at KS3 and 4. We also make a Little Turn & Learn for primary school-aged children at EYFS, KS1 And KS2 stage. The plastic moulded seat comes as standard. You can also buy an upholstered version that works brilliantly in office spaces, from our sister company, Spaceoasis®. British-designed and made in the UK.
Releasing pressure on internal organs
By so doing, you're increasing the flow of oxygenated blood to the brain aiding cognition. And by removing the backrest, it means you're engaging your core muscles – ask any dancer how this helps.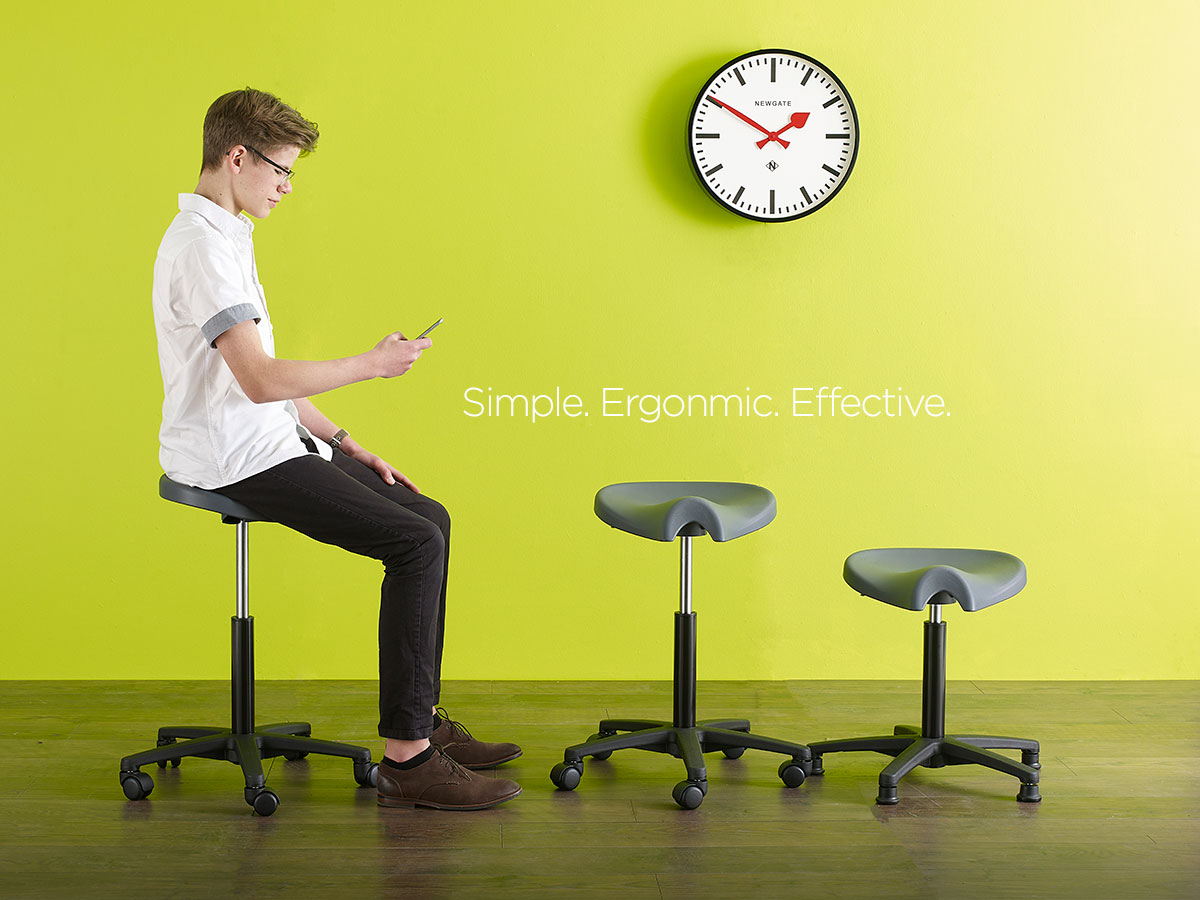 Comfort
The Turn & Learn delivers superior comfort through good ergonomics. Sitting in an upright, alert position similar to that of a cyclist or horse rider engages the core abdominal muscles improving posture and blood flow.
Improves attention
This ergonomic seat allows a greater angle between torso and thighs, opening up the blood vessels and increasing the amount of oxygen to the brain and providing a superbly comfortable sitting position. The turn of the Turn & Learn allows a certain amount of fidgeting which helps children concentrate.
Small footprint
Height adjustable Turn & Learns are easy to place under desks to clear pathways and their footprint is smaller than a chair so they take up less space, making it much easier for everyone to move around the room. Inherently agile, the Turn & Learn is a great choice for flexible spaces.
Technical information
FINISHES
Seat
Charcoal grey
Gas lift
Black
Base
Black nylon
DIMENSIONS
Overall
Base 560Ø
Seat 400W x 380D
Seat range
490 to 660 to back of saddle
(Lowest point of saddle approx 40 lower)
OPTIONS
LF04-45-B
With braked casters
LF04-45-G
With glides
Turn & Learn is great to use with: